Jesús Cisneros is a Spanish artist, illustrator and teacher who likes filling sketchbooks, has published books in several countries and also teaches art workshops and courses.
Six/Seis is a 216-paperback artbook that features selected pages from his sketchbooks. This paperback edition is actually the second edition. The first edition was cloth-bound and was sold out.
The sketches are grouped loosely to these six categories: themes, series, memory, exploration, accidents and fiction. There's also a one-page essay with him talking about his perspective and approach on art under these six categories.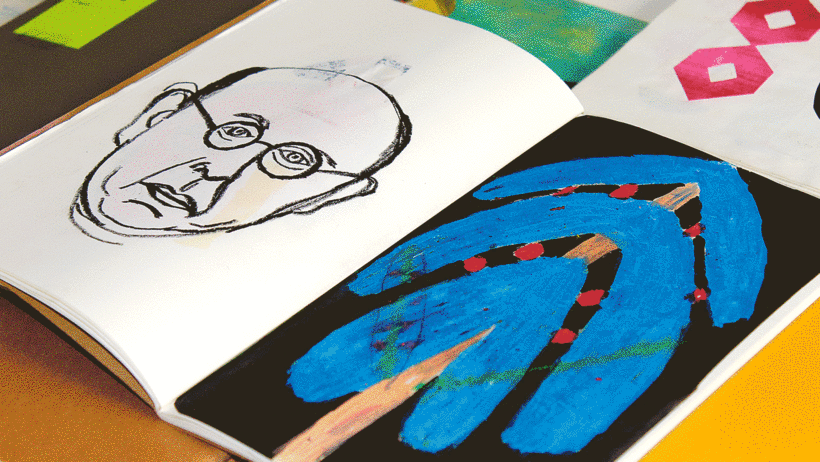 The sketches by Jesús Cisneros are imaginative and about exploring ideas. He would draw versions of the same subject different times, each time varying the design and sometimes varying the tools that he uses. All the sketches shown in this book were drawn in sketchbooks and drawn with traditional media,
His sketches are filled with symbolism and strong elements of visual design. The look and style is actually quite raw, loose, and you can really see the characteristics of each medium, e.g. smudges of pencils, the textures of crayons, the patchiness of paint. This book is certainly not for those who're into refined, polished sketches or representational art.
Oh, by the way, if you want to learn how to create sketches like him, you can check out his 2hr+ online art course Artist's Notebook: Explore Illustration Techniques on Domestika.
It's a good book worth checking out if you like his style of art. You can see more of his art on his Facebook and Instagram pages.
This book is available from UnseenSketchbooks, Curated Chronicles and Basheer Graphic Books (Singapore).
And if you like this style of art, check out these sketchbooks too: